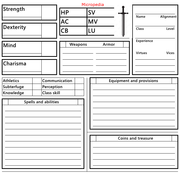 I don't have a particularly slick or complete document regarding my version of Microlite, which is sort of a greatest hits, using the highlights of each edition of Microlite and trying to balance them all in a way that stays true to the rules light ethos. I wanted the slightly broader statistical spread, and keep to that classical b/x scale. But I also wanted the singular saving throw, affected by whatever stat is relevant to the attempt and also adjusted by class abilities. Like Dwarf being naturally resistant to magic. (I do like race as class, but am trying to make a good variety of options, with very evocative names. Like the Bounder, a Halfling Ranger. Or the Lizardman, who is a Barbarian that can't wear armor, but is physically superior (d12 and heals at 2x normal)
I also liked the very abbreviated skill system, and simply added a class specific skill, allowing a d20 check for each class that functions like a turn undead or spell check or Thievery.
Movement as a simple way of handling initiative and luck as a currency for bartering for your characters life (DCC inspired, obviously)
I also really liked the virtues and vices in ML81, it gives you a great deal of fundamental character to build personality from. I liked the idea of perception functioning like b/x detect. Being a function of your race/class rather than a stat bonus.
I used sort of a middle-ground for AC between early and contemporary editions. +3 for light, 5 for medium and 7 for heavy. I like the gradated intermediate options between light/medium/heavy as well. CB giving first level bonuses made it impossible to run those classic AC charts, but it's not quite as powerful as in 3+ where 20 ac is achievable without magical equipment. Then allowing for light and heavy shields, all of which affecting movement checks, naturally.
This a bit of a mess, but I hope it's somewhat comprehensible in communicating my goal.